about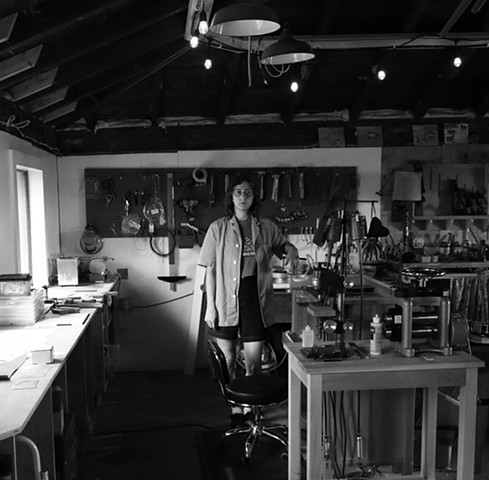 I have been pursuing a career as an artist, jeweler and educator for twelve years. I graduated Summa Cum Laude from Kent State University (KSU) with a Bachelor of Fine Arts in Jewelry/Metals/Enameling in 2013. While at KSU, I received the Research and Scholarly Activity Grant with Kathleen Browne. After graduation, I worked as a bench jeweler in New York City for two years. It was there I decided to attend graduate school and focus on my own work. I moved home to develop a portfolio and accepted a teaching position at a local elementary school.
In 2017, I enrolled in SUNY New Paltz where I received the State University of New York at New Paltz Master of Fine Arts Scholarship, in addition to two Creative Project Awards. I was a Teaching Assistant for Myra Mimlitsch-Grey, and assisted Lynn Batchelder at Arrowmont School of Arts and Crafts in 2018. Shortly after, I was chosen to be the Instructor of Record at SUNY New Paltz where I graduated Magna Cum Laude with a Master of Fine Arts in Metal in 2019.
After graduating, I was an artist-in-residence at Arrowmont School of Arts and Crafts where I continued building on my graduate work and exploring experimental casting techniques. I moved to Baltimore, MD for two years where I taught at the Baltimore Jewelry Center and was an adjunct professor at Towson University and Montgomery College. In 2023, I moved to Vermont where I continue to experiment and create new work. I have plans to teach a growing variety of classes out of my workshop; and I am also an instructor at the Shelburne Craft School and the Generator in Burlington, Vermont.
My work has been exhibited nationally and internationally. Recently, several of my rings were selected for Schmuck 2023 in Munich, Germany and Melting Point Valencia in Valencia, Spain. My work has been published in Metalsmith Magazine, On Offer and Autor Contemporary Jewelry Magazine to name a few.