statement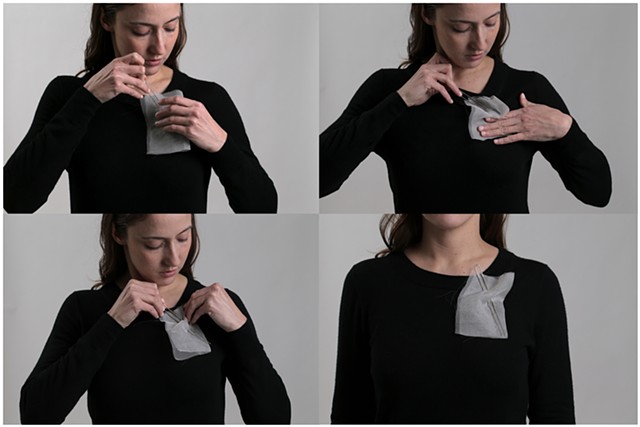 My work is highly influenced by the relationships I observe between mundane marks and time; water rings from a coffee cup, dust settling on a surface. I conduct material research to understand how jewelry, metals, alloys, and graphite can be manipulated to communicate these ideas. I use silver, silver alloys, and their ability to tarnish at different rates to create work that changes over time. I file silver into "dust" to reference the way dust and debris collect and settle around objects. I carve molds out of graphite and sinter and fuse silver to preserve the "dust." I also create prints that reference my jewelry making processes. For instance, I create 'dust prints' where I hand emboss silver filings into paper. In time, the silver will oxidize, and the image will darken.
Every morning I use a broom to sweep the floor. A ritual that slowly wakes my body and redirects my anxious energy. I focus on the collection of debris: crumbs, skin, hair, dirt. On windy days, particles blow in from the outside, mingling with indoor debris. Each morning the pile changes shape, size, and variety. The process of creating my most recent work involves tedious, repetitive acts that mimic this daily ritual. The work is presented in a jewelry format that loosely references the forms and textures of the dust and debris collected each morning over the past few years.
My practice utilizes experimentation, contemplation, and a dedication to slow and careful processes. The jewelry and objects themselves are but one factor in a larger, more holistic practice of making and unmaking.